A recent poll found that more Republicans see former President Donald Trump as a person of faith than more vocally religious politicians such as former Vice President Mike Pence and Sen. Mitt Romney (R-Utah).
The poll, conducted by HarrisX for Deseret News, asked registered voters which politicians they considered to be people of faith.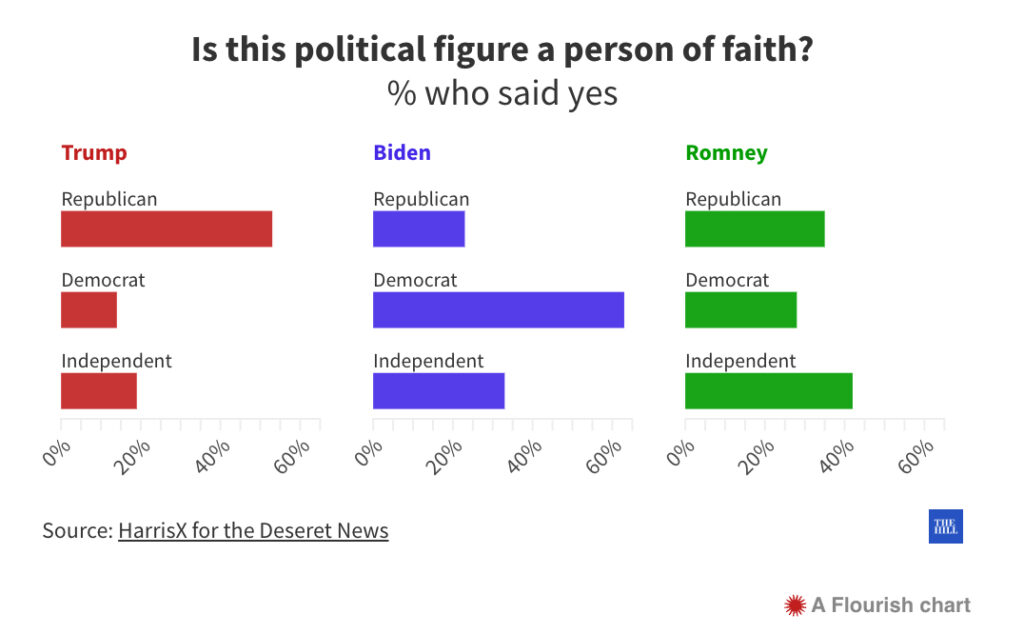 Among Republicans, Trump earned the top position, with 53 percent of voters thinking he is a person of faith. Pence, an evangelical Christian, followed closely behind, earning 52 percent in the poll.
Unlike Pence and some of the other Republican presidential candidates, Trump rarely talks about his personal faith. His personal history is also one that would seem, at a glance, to be potentially troubling for Christian conservatives. However, Trump has consistently won the support of social conservatives, and the results of the poll could provide some insight into how they see him.
Among Democrats, President Biden ranked as a top choice, earning 63 percent of voters who say he is a "person of faith." Biden has been vocal about his Catholic faith. Vice President Kamala Harris, who identifies as Baptist but was raised in an multi-religion household, came in second for Democrats.
Almost half, 42 percent, of Independent voters said Romney, a Mormon, was the political figure most likely to be a person of faith.
Pence, along with Sen. Tim Scott (R-S.C.), have both made their Christian faith central to their presidential campaigns. Both are rivals to Trump, the frontrunner for the GOP nomination.
As for the other GOP presidential hopefuls, 47 percent of Republican respondents thought Gov. Ron DeSantis (R-Fla.) is a person of faith, while Scott and former Gov. Nikki Haley (R-S.C.) tied each earning 31 percent. Thirty percent believe Vivek Ramaswamy to be religious and 22 percent said the same of former Gov. Chris Christie (R-N.J.).
Less than a quarter of Republicans believe Biden is a person of faith and 12 percent said the same for Harris.
The poll was conducted by HarrisX from Sept. 8 to 11, among 1,002 registered voters and have a margin of error of 3.1 percentage points.
Interpretation
The poll results suggest that many Republicans view Trump as a person of faith, despite his personal history and his infrequent talk about religion. This is likely due to his conservative policies, which have appealed to social conservatives.
The poll also found that Biden is seen as a person of faith by a majority of Democrats, while Harris is seen as less religious. This is likely due to their different religious backgrounds and Biden's more vocal expression of his faith.
It is important to note that the poll is only a snapshot of public opinion at a particular moment in time. The results may change as the political landscape evolves.